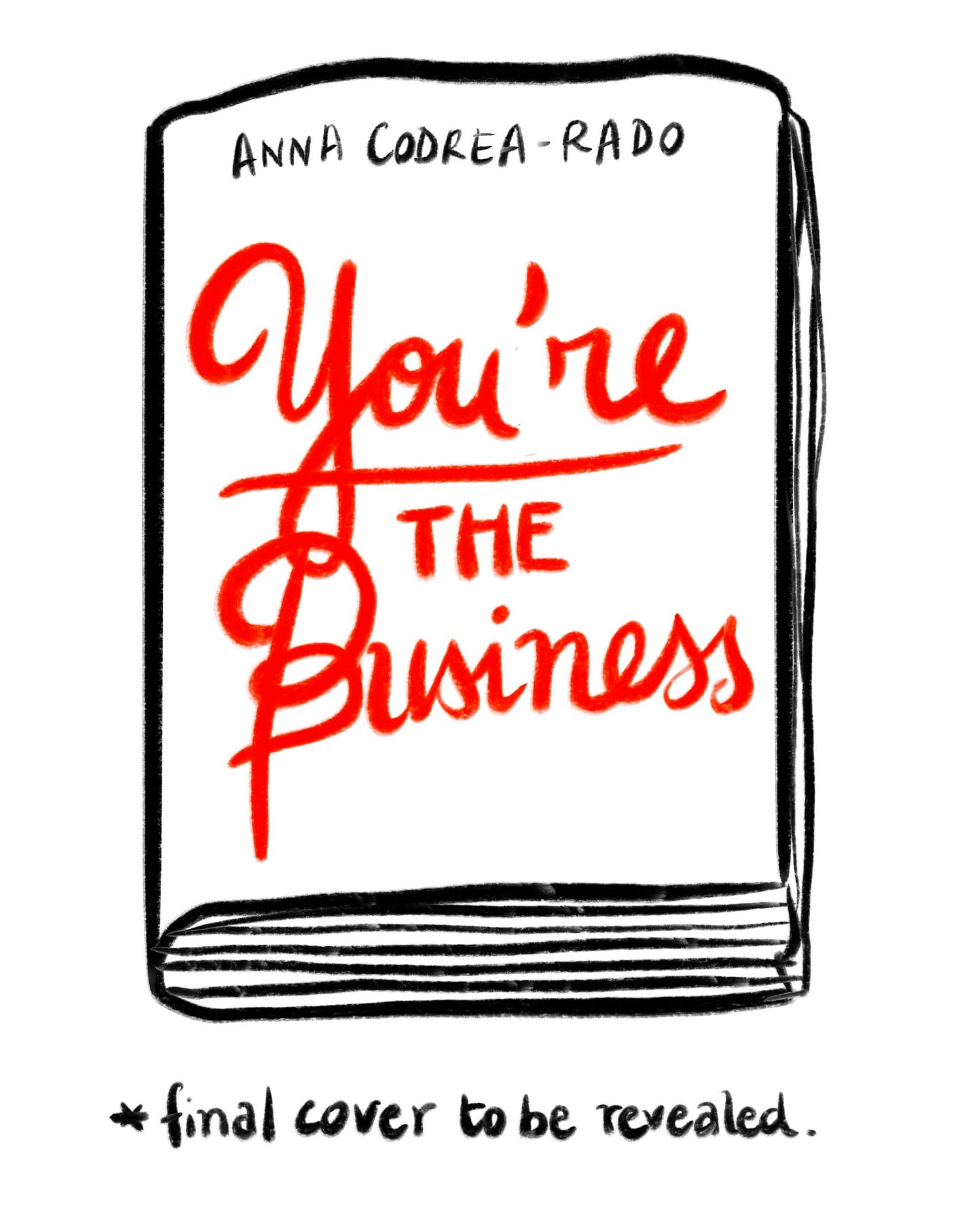 I've never felt so nervous sending a newsletter as I do right now. Here goes...
I'm writing a book!!
You're The Business is the guide book I wish I'd had when I first went freelance. It's based on everything I've learned since I started working for myself, as well as wisdom from heaps of superstar freelancers. It's going to be super practical, covering everything from finding clients and getting paid, to the emotional side of freelancing like dealing with insecurities and combatting loneliness.
What I'm most excited about with the book is the space I have to go super in-depth. There's going to be a lot of content in You're the Business that I've not been able to cover in these emails. This book is my chance to finally put everything you need to be happy and successful working for yourself all in one place.
You're the Business will be published by Ebury and will be out in March 2021. Please pre-order the book if you can, it makes a huge difference and I'll explain why.
Before my own foray into the publishing world, I had no clue how important pre-ordering was, especially for debut authors. Pre-ordering is when you buy your book from a bookshop or online store before its release date. But what you probably didn't know about pre-ordering is that it counts towards the book's first-week sales.
This matters because we live in a world of algorithms. If your book does well in its first-week sales, it has a chance to get into the bestsellers lists. If it gets in the bestsellers lists, more retailers stock copies of the book which means more chances for people to see it in bookshops and online. It also means more press and social media attention, which again increases the chances of people buying the book.
I'm saying all this not just in the hopes that you consider pre-ordering my book, but also other books, too. I never used to pre-order because I didn't know that my early purchase of something I intended to buy anyway had such a big impact on the author.
I'm beyond thrilled to be writing You're the Business, it's going to help so many freelancers build a happy and successful career on their own terms. And it wouldn't be happening was it not for this newsletter. So I wanted to say a huge thank you from the bottom of my heart to everyone who reads this email each week. What started as a place to write at a point when my career was turned on its head, has turned into a life-changing opportunity.
I wouldn't have this book deal were it not for all of you, allowing me into your inboxes every Friday. Thank you 💌
P.S. That's not the actual cover of the book, just Léo Hamelin's beautiful doodle of it
---