How Not to Take a Holiday as a Freelancer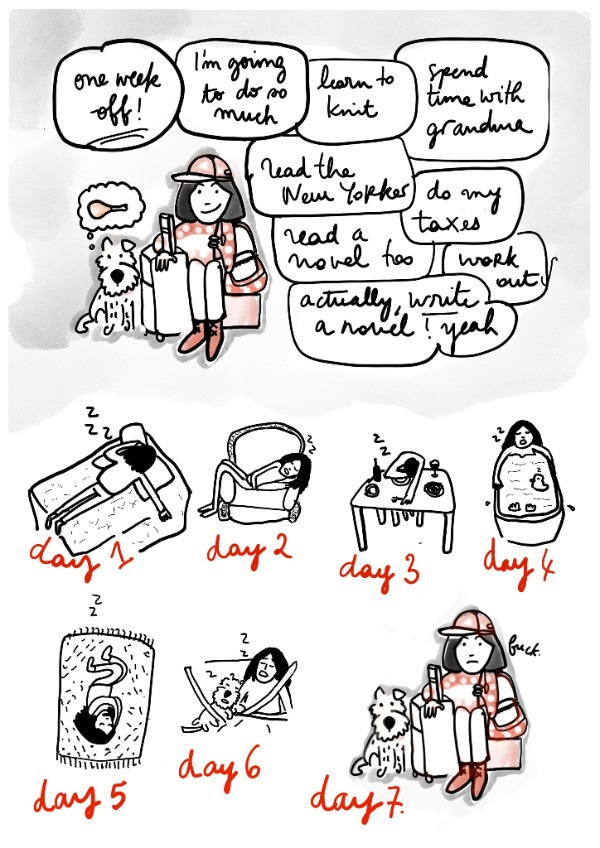 In the weeks before I was made redundant last summer, I was in the middle of planning a big trip to California. When it came to booking the flights, two weeks after losing my job, I decided to still go ahead with the holiday. By the time the trip rolled around, I'd been freelancing for just over three months and was just beginning to feel confident in my unplanned situation.

So I went away, completely switched off and had a fantastic time. When I came back, however, I didn't have any work lined up. Day one back home, in a jetlagged-induced trance, I looked at my credit card statement. I panicked and started frantically pitching. I actually felt more stressed in the days after coming back from California than I did on that first Monday after losing my job.

So when I decided to take a week off at the beginning of March to go skiing, I was determined to learn from my mistakes.

Before I went away, I read Laura Snapes' piece about taking a guilt-free holiday as a freelancer and nodded along at her sage advice to "make sure you have work planned for your first week so that you're not left facing a blank slate and a pile of bills."

So I landed some work with deadlines for that first week back. I even had big plans for this newsletter: it was going to be written and scheduled for the week while I was away. It supposed to be a list of tips on how to take a holiday as a freelancer like a pro. But that didn't happen. In fact, I didn't even send a newsletter the week I got back because I was working flat out to meet those deadlines.

I completely overstretched myself. I booked in too much work this time with deadlines too close to my return from holiday. I also kidded myself into thinking that I could do a bit of work while I was away. I was skiing with my family, which was exhausting (in the best kind of way) and the thought of transcribing interviews in the evenings did not appeal.

I initially wasn't going to write about any of this as my goal with this newsletter is lead by example that freelance writing is a sustainable way to make a living. I felt disappointed in myself because I'd wanted to write about how contrary to popular belief, taking a holiday as a freelancer is easy.

But then when I really thought about it, I realised that having too much work is not the worst problem to have when you're self-employed. And I am still convinced that it is attainable to have stress-free freelancer holidays, I just haven't quite mastered it yet, but that's all part of this steep learning curve I'm on. I'll just have to book another holiday and try again – third time will be a charm.