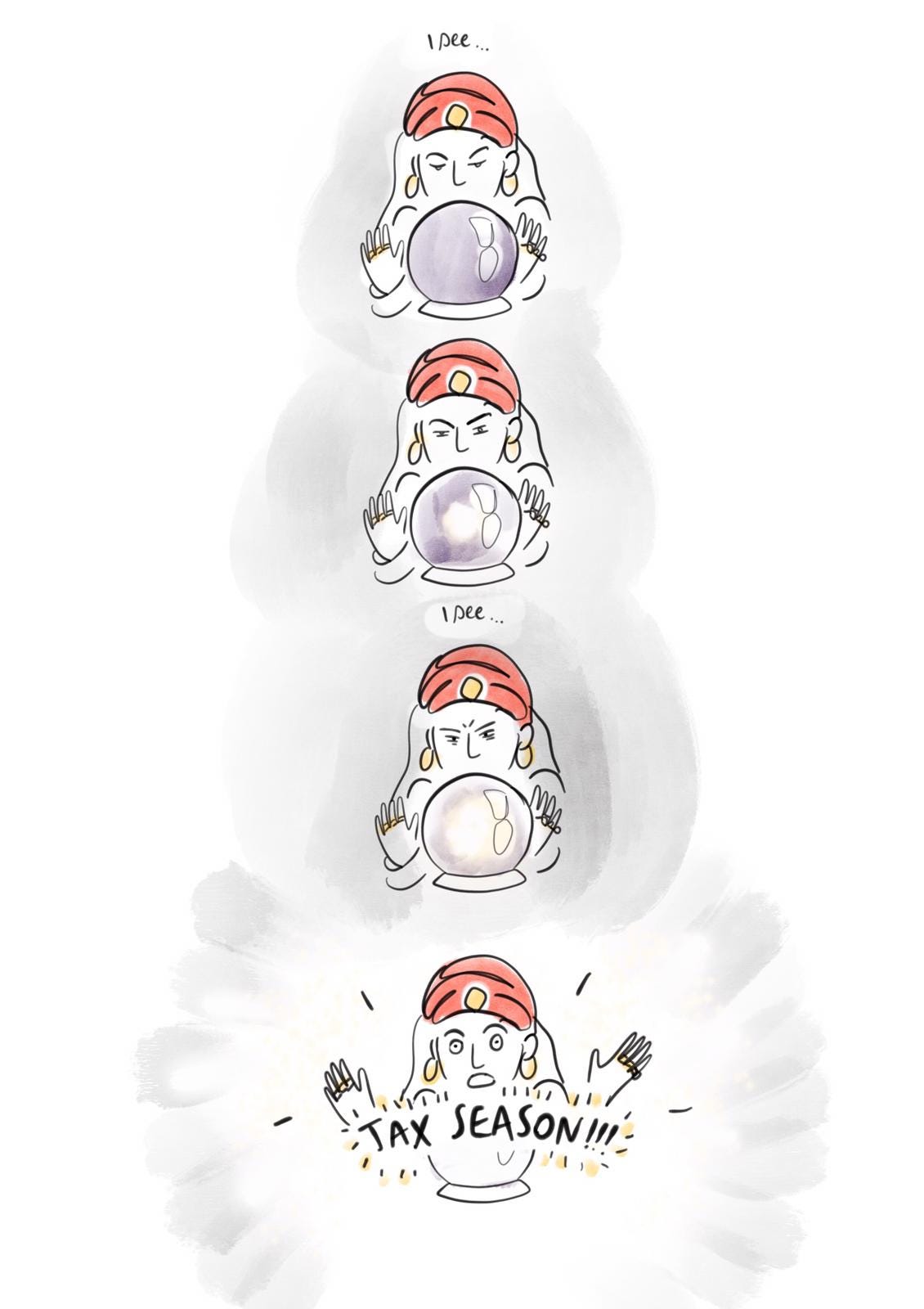 January is the cruellest month for freelancers. Christmas is a distant memory and all you're left with is a huge credit bill and a looming tax deadline. And then there's the tiny matter of a "payments on account" bill.
The diligent among you will have already filed your self-assessments, but some of you still need to do it (you have until January 31). Others, like me, will have done a self-assessment for the first time this year and got a big shock. So I thought it was time I wrote about handling tax as a freelancer.
In order to do so, I'm super excited to have worked with a partner on this because as much I would love to give you all financial advice, it's much better it come from someone who's actually qualified to do so.
This week's newsletter is in partnership with ANNA, a business current account, debit card and a hybrid digital assistant all accessed through an app. (What a GREAT name for a company, amirite?) I've been using ANNA for a couple of months now and it's vastly improved my life. My favourite feature is asking the app to do my invoicing for me cus it makes me feel like an exec.
A few weeks ago, I asked you for your tax questions and the good people at ANNA have now answered them for you. Here's everything you need to know about doing your taxes as a freelancer
(PS, in the interest of transparency, I've added some info about how I work with sponsors in the footer of the newsletter)
The Professional Freelancer: What are some good strategies for how to set aside money for your taxes when it's difficult how to predict how much you are making from quarter to quarter?
ANNA: If you're registered as a self-employed sole trader and submit self-assessment tax returns you want to set aside 20% of your income if you're a basic-rate taxpayer, or 40% for higher-rate payers. This allows for National Insurance Contributions (NIC) which is payable at 9% for self-employed individuals but also allows for tax-deductible expenses and personal allowances.
When you start out as a freelancer, it's hard to know what your annual income will be, so it's a good idea to take stock every quarter of how much you're earning. After at least a year in business, when you have a better idea about your net profit percentage, you'll be in a better position to know what proportion of income should be saved for taxes.
Don't forget that HMRC has plenty of free resources to help you, including a good budgeting tool to help the self-employed estimate how much they need to set aside. And always slightly over-estimate to be safe!
What is "payments on account" and how can I avoid it?
Payments on account (POA) are advanced payments towards your tax bill that the self-employed must pay. It's calculated at 50% of your previous tax bill and is due in two instalments. The first POA is due on January 31, which is the same deadline for also clearing your balance for the previous tax year, and the second instalment is due on July 31.
If you fall within HMRC's requirement of POA then it's compulsory and unavoidable. It's intended as a way for the self-employed to spread out their tax bill, but it does take some time to get your head around how it works.
By the time that the first POA is due, you will be 9 months into your financial year and either you or your accountant will have a good idea of the tax liability for that year. If the tax liability is estimated to be lower than the previous year, it is possible to reduce the POA in line with the estimate. When the POA is reduced it is on the basis that if the tax is underpaid, HMRC will charge interest on the underpayment. If you overpay on account the balance is refunded very promptly by HMRC following submission of a tax return.
What can I reasonably expense? For example, how far is it permissible to expense things like training, courses, books and the like. What are the widest "self-development" expenses that are legit?
To the letter of the law, any tax allowable expense must be "wholly and exclusively" for business purposes or in promoting and expanding that business. If an expense is multi-purpose then any private use element must be disallowed in calculating the tax. This applies to training costs as with any other cost; as long as the books, courses and so on are directly connected to your professional work, then they can be considered as allowable expenses
What's the best way to calculate tax as a freelancer if you're really bad at maths and can't afford an accountant?
If you are really struggling with calculating your tax, then you really do need an accountant to do it for you. The saving will outweigh the cost of hiring the accountant. If you don't want to hire one, though, there areonline tax calculators available on HMRC website. Also, always be honest when you fill out the Self-Assessment; the online form does the calculation for you so all you need to do is input the correct information.
If I work from home, how do I calculate how much of my rent I can expense?
If you're filing your own self-assessment, you have a couple of options here. HMRC have set rates you can use to claim based on the number of hours you work at home. Or another way to do it is to compare your bills during self-employment to those you had prior to self-employment.
If you use an accountant, most likely they will calculate a proportion of your expenses based on your office space as a proportion of the overall house or flat. Remember though that this excludes the cost of telephone and broadband where the business cost of these can be claimed separately and in their entirety.
I started freelancing after 5 April 2018. When do I file my self-assessment?
Your first self-assessment return is due for the period April 6, 2018, to April 5, 2019, so this must be filed by January 31, 2020, if you do it online.
Do I need to register as self-employed I do part-time work on a PAYE basis?
If you are doing any work on a self-employed basis you need to register with HMRC regardless of whether you have income from other sources.
What do I need to do about national insurance contributions if I work part-time and on ad hoc projects?
When you register as self-employed with HMRC you register for Class 2 and 4 National Insurance at the same time. These are classes of NI paid by self-employed individuals.
What are the benefits of starting a limited company versus being a sole trader?
There are pros and cons to both options and it very much depends on the nature of your business and perhaps also who you work with. For example, some clients feel more comfortable commissioning a limited company (even if that "company" is actually just one person), rather than individual "freelancers". Some people find being a limited company projects a certain impression. Talk to an accountant or business adviser about your individual circumstances, give them a clear picture of how you work and exactly what they do and they'll be able to advise you on the right option.
What do I need to do about repaying student loans? Should you should allow more for it when you're calculating the amount of money to save for tax purposes?
Yes. Student loan repayments are calculated as a percentage of taxable profits and the repayment is added to an individuals' self-assessment tax liability for payment to HMRC.
Bonus question: What are the rules about late payments? How can we enforce late payment fees?
You are legally entitled to claim interest and debt recovery costs if a client is late paying for goods or a service you provided. On your invoice always state your payment terms. Underneath include a line that explains the late payment fees. For example: "Late payment will result in a late payment fee of £X and accrue interest of X% for each day that payment is delayed".
When it comes to setting these fees, the law says that you are entitled to claim a fixed fee (which is determined by the value of the goods or services your provided), as well as interest in late payment fees.
Also, when negotiating a contract or starting a new relationship with a client, try and make sure details of late payment fees are included in your main contract terms and conditions in the "fees" section so that clients know from the very start that they will face a penalty. But be aware that all this might only be a deterrent at best. Unfortunately, there are always a few badly behaved companies that pay late regardless!
Sign up now to get your ANNA current account and services free for three months
Editor's note: This email was published before I moved my newsletter over to Substack. I now no longer work with sponsors on the newsletter as it is reader-funded.