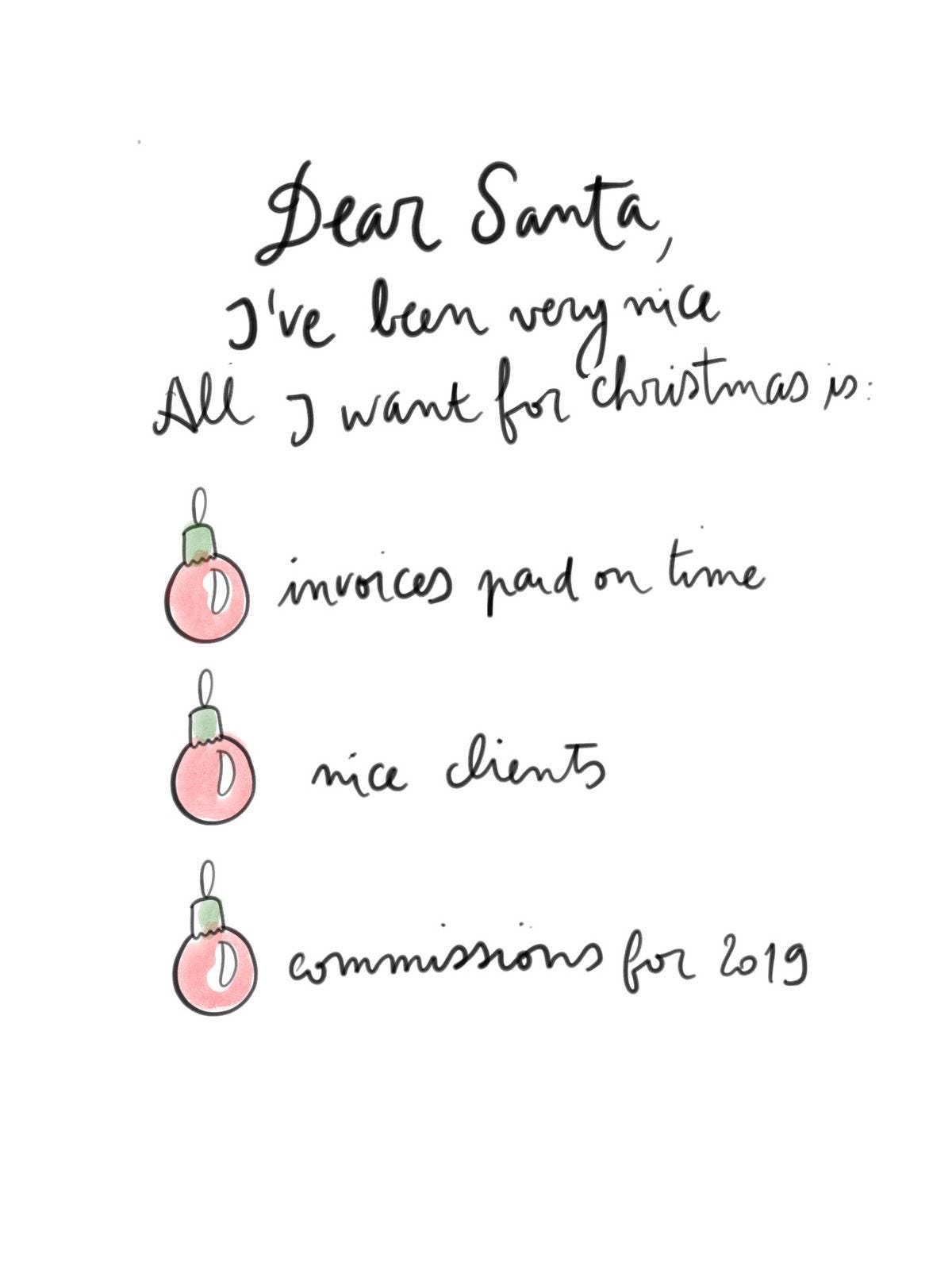 It's the last newsletter of the year! I'm closing out 2018 by answering all the questions people have sent in about freelancing. It's been a fab year and writing this email every week really has been the highlight. Thanks to everyone who's read, shared and replied to it, it means a lot.

Here's are the big freelancing questions you wanted the answers to:

Do you ever agree to sending drafts to publications "on spec"? Even if they don't guarantee a kill fee?

This is kind of like the "should I write for free" question. To which I don't think it's as simple as saying to never do it. I wouldn't make a habit of sending in drafts on spec, but I do think there are some cases you might want to consider it.

When I was starting out in journalism, I sent in a draft on spec to a magazine after I'd pitched a piece that was well above my experience level. It never got published. The editor did, however, give me extensive feedback as to why they weren't going to run it and I learned something from that experience.

Another thing to consider is how much you want to write for that outlet. If the answer is "a LOT," then go for it. Freelancing is like any other business, you sometimes have to take risks to get what you want.

How can you get feedback on a pitch that's been rejected when all you're getting from editors is "not interested" or no answer at all?

If you've asked for feedback and the editor doesn't have time to give it, it's frustrating but there's not a lot you can do to make them give it to you. What you can do, however, is try to diagnose the issue yourself. Was the pitch as clear as it could be? Was the idea a good fit for that specific publication? And did you tailor the pitch to it? Have a read of this excellent advice from commissioning editors about how to pitch.

If you really did do all your homework and sent in a stellar pitch, then chances are it got rejected for reasons beyond your control (usually these are budgetary). Anna Goldfarb (a freelancer who regularly writes for the NYT) tweeted out her story stats from the year and over half of what she pitched either got rejected or went unanswered. As she said, rejection is part of the process.

Do you ever reach out to editors and try to build a relationship/ find out what their commissioning budget/priorities are before pitching?

This is a tricky one. The reality is that the relationships I've built with editors have either happened after I've started writing for them or already existed. I don't think I've ever cold emailed an editor, had a coffee with them and then started writing for them. Which, when you think about it, is kind of fair enough. As a former editor myself, I know that they just do not have the time to meet all the freelancers on their existing roster, let alone all the ones who reach out to them. Build that relationship after you've proved your writing chops.

That being said, I do think it's often hard to know what editors really want. You can have an objectively Good Pitch but if it's just not something the editor is into, chances are they will say no. What I'd personally love to see more of is editors posting their pitching guidelines. For example, the Guardian US's features editor and friend of this newsletter, Jessica Reed, has some great tips for pitching her.

Negotiating rates: what are the top 10 best arguments to use when negotiating a better rate?

My top tip for negotiating a rate is to focus very clearly on why they should be paying you more. You feeling like you should get more money, is not an argument. Will it take you more time or research than a typical feature? Is the access exclusive to you? Are you able to deliver to a really tight turnaround? Do you have a certain level of experience or expertise?

One thing I will say on negotiating rates is that the bigger the publication, the less likely you are to get a better rate. For the simple reason that these places have a dozen other people willing to write for them for their rates. That's not to say I think it's ok that many publications haven't raised their freelance rates in years (you know who you are), but just to set expectations.

I wondered if you have any tips for starting out? I know there isn't much budget around, especially as I'm not a practised journalist with a big portfolio. I don't want to write about just anything because I don't see it as being my full-time career but more of something I do for passion that can supplement my main income.

Find a publication that will be good to you. At the pitching panel, Hannah Ewens from Vice made an excellent point about finding editors that are willing to work with you to make you better. I think if you're starting out, that kind of relationship is invaluable.

Be prepared, however, for that publication not to be a traditional media outlet. You might not have a journalism portfolio, but it also might be the case that it's not actually journalism you're trying to do. Which is a *great position* to be in, because there's never been more demand for content. Be publication agnostic and find companies working on their own blogs within the spaces you're interested in.

Above all else, don't undersell yourself. You don't need a massive portfolio to start out, just three strong clips and a great pitch.

I am really looking for any advice you might have for starting in journalism.

I get so many students asking for my advice and I'm going to write a whole newsletter about this, but for now here are my top tips:

If you're still a student write for a uni publication, or even better: start one.

Take any writing experience you can get. My first job after graduation was editing an alumni magazine.

Set your expectations. You probably won't be writing for The Times straight out of uni.

But at the same time, set big goals and figure out what you need to do to get there. My fav cheesy saying is: Shoot for the moon, even if you miss you'll land among the stars.

Try out as many different types of writing and formats as you can.
Even though I did one, I'm not sure if a journalism degree is worth it now.

Make your own content: find a platform you like and tell stories on it.

Network, network, network. Everyone says that, but it's true. What people forget to say though is that when you do reach out to people, be polite and respectful of their time.

The sooner you get good at taking rejection, the sooner you'll nail this journalism thing.