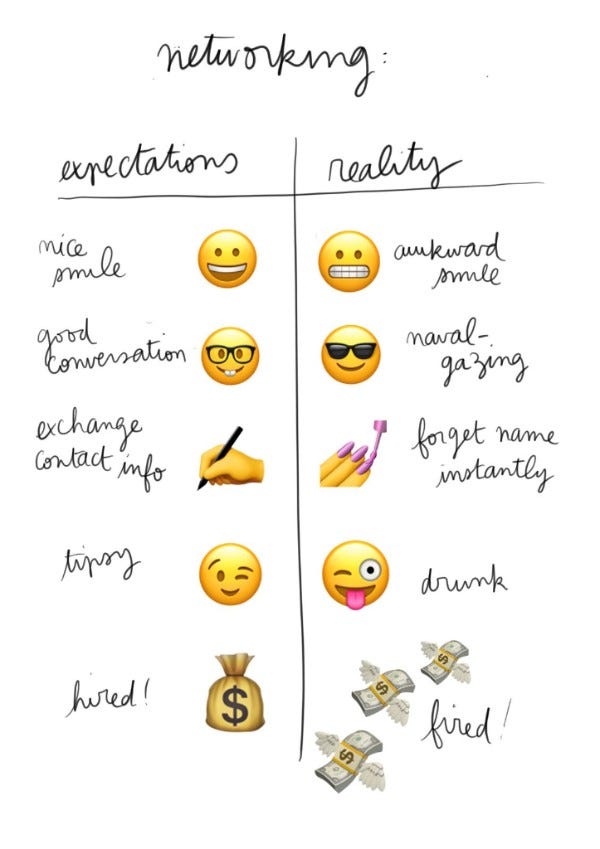 Cartoon by Léo Hamelin
---
As an introverted freelancer, living in a pandemic, it's easy to go for days on end without any real human interaction. And despite kidding myself otherwise, posting jokes about looming deadlines on Twitter doesn't count.
As much as the prospect of networking makes my stomach turn, it's an unavoidable part of being a successful freelancer. So if you're anything like me and would rather watch Friends re-runs than go to a networking event (both IRL or over Zoom), here are my top tips.
Be smart about online networking
I'm in a few Slack and LinkedIn groups, which are great for finding publications to pitch. This piece I wrote about my grandfather ended up in the Paris Review because I'd seen a call for pitches in a Facebook group. Online groups can also be good places to test out ideas or ask questions; I find that the more specialised the group, the higher the quality of discussion.
Go to the right events
Don't network just to tick a box. Go to events that are actually interesting to you, or where you have the potential to make good contacts. Seek out the established organisations and institutions in your industry hosting events. When scoping out an event, look at the attendee list and read the panel descriptions. There's no point going to a bad event, you'd be better off bouncing project ideas off your mates.
Inside and outside networking
There are two sorts of networking you should be doing: with the people who hire freelancers and within your industry. It's all very well and good having people to pitch your ideas to, but you also need to actually find those ideas.
Take that client relationship IRL (or at least on Zoom)
If you've worked with a client a couple of times, ask for a Zoom coffee. Yes, we've all Zoomed out by this point so be mindful of your approach, but putting a face to a name will strengthen your freelancer-client relationship.
Go horizontal
Don't neglect the importance of building contacts at your level. You don't want to be that jerk who's only interested in climbing the ladder and not helping anyone else up it. Industries are smaller than you think – your old classmate will one day be a hiring manager.
---
This is the online version of The Professional Freelancer, a newsletter and community for anyone who wants to be happy and successful working for themselves. It's written by me, Anna Codrea-Rado, a journalist, podcaster and campaigner for freelance workers' rights. Illustrations are by Léo Hamelin. If you sign up with your email, you'll receive weekly posts like these, PLUS work opportunities and curated links that will make your working life better.