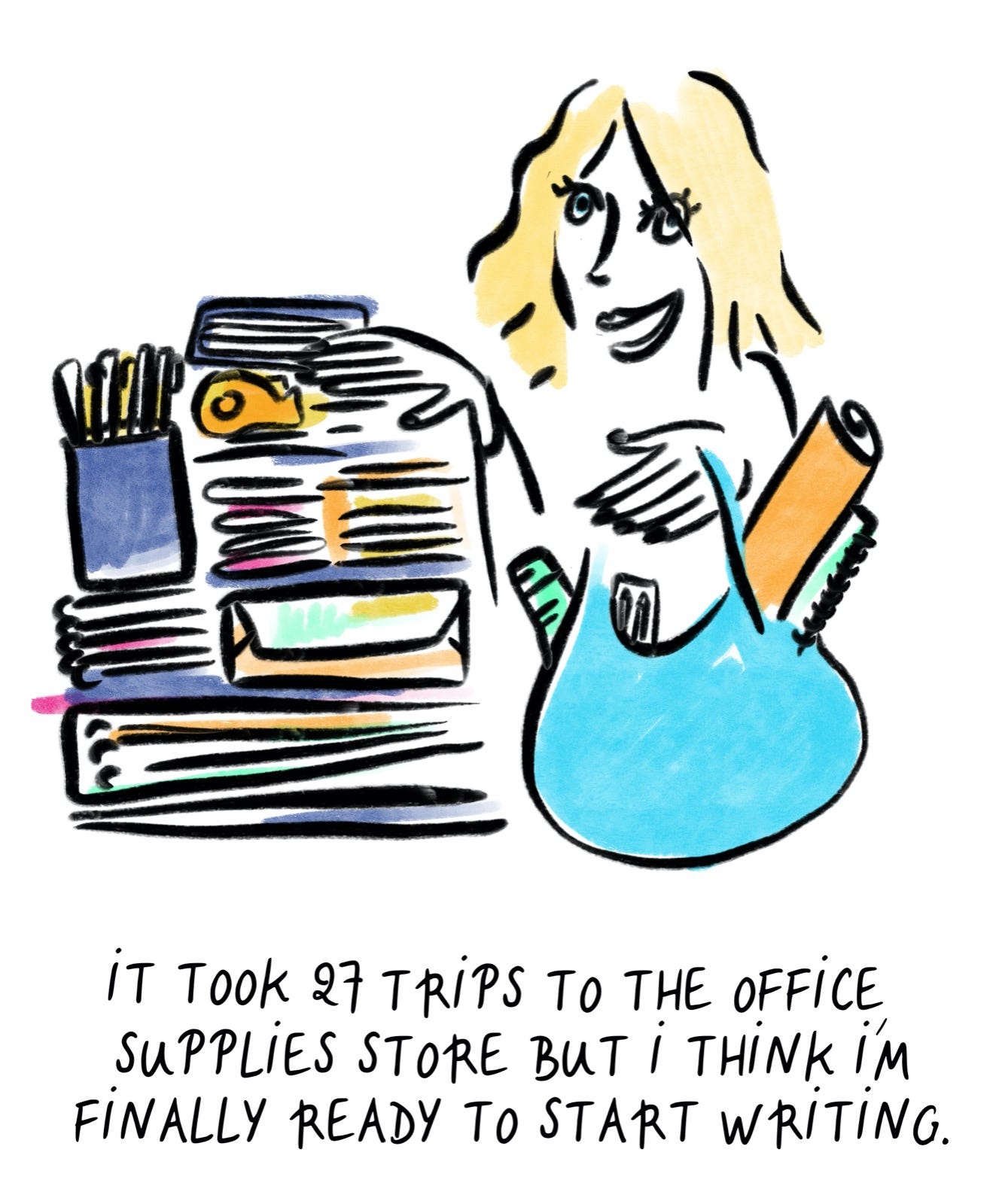 Illustration: Léo Hamelin
As you probably know by now because I talk about it a lot, I'm writing a book at the moment. I've got just over six weeks until my deadline and it's not that I'm behind per se, but if I keep going at my current pace, I'm won't meet my word count in time. I've been squeezing in two days of writing a week alongside all my other work and it's just… not working.
So, I'm going on book leave! I'm taking the next six weeks off to work solely on the book. I'll be holed up in a cottage in Cornwall for the first week of my pseudo-sabbatical and then it's back to my desk at home. I've taken out a subscription for Boomerang to pause my inbox and will be off socials (again). I can't wait. I feel enormous gratitude at the thought of spending the next six weeks writing.
Now, if you're thinking that means this newsletter is going into hibernation, you'd be wrong! I've pre-written all the posts for the next six weeks and they'll be landing in your inboxes as usual. To make my workload more manageable, some of the Friday newsletters will be reprints of past newsletters, which I've updated since I first wrote them.
If you're a premium subscriber, all your benefits will continue as normal. The posts are already written and the events are all booked in. In fact, the only times I'm planning to surface on the internet in the next six weeks is to host a Q&A for the TPF premium members about finding commercial work and for my monthly Office Hours sessions. Lucky you!
To make sure everything I've just outlined runs smoothly in my absence, I've hired a brilliant editorial assistant to help me. Ebony-Storm Halliday is going to be hanging out in the TPF private Slack group, curating the weekly reading list below and generally giving me peace of mind while I write. I'm not great at asking for help running my business, but I wouldn't be able to take this break without someone steering the ship while I'm gone.
Before I disappear into my writing hole, I wanted to say a huge thank you. It's truly thanks to all my readers that I'm even writing a book in the first place, so thank you for reading me each week. See you on the other side (of 70,000 words)! 🤯
---
This is the online version of The Professional Freelancer, a newsletter and community for anyone who wants to be happy and successful working for themselves. It's written by me, Anna Codrea-Rado, a journalist, podcaster and campaigner for freelance workers' rights. Illustrations are by Léo Hamelin. If you sign up with your email, you'll receive weekly posts like these, PLUS work opportunities and curated links that will make your working life better