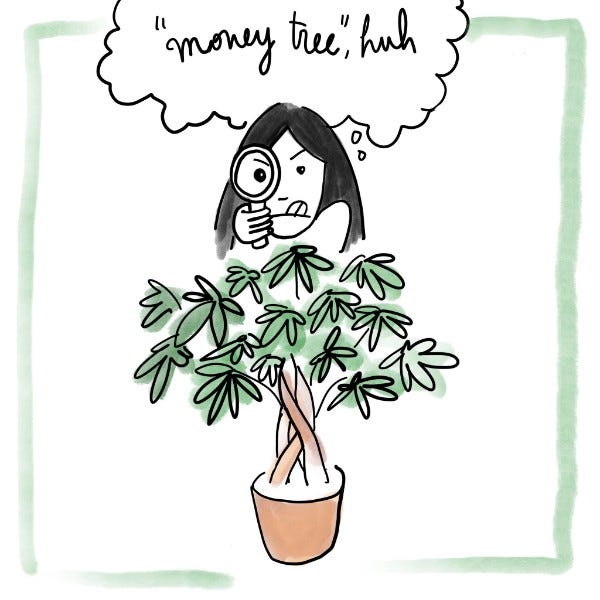 Today's newsletter is coming to you on a dreary Monday afternoon. For no reason other than I just didn't have a chance to send it during regularly scheduled programming on Friday.
I've taken on too much lately and by the end of the week everything had piled up too high. Something had to give, and unfortunately, it was the newsletter. Unlike my other commissions, no one pays me to do this, so despite it being one of my favourite things to writes, it sometimes falls to the bottom of the priority list.
I haven't missed writing a newsletter in ages, though, so over the weekend I had a think about why this happened. I realised the root of the problem, as is often the case with most freelancer worries, was money.
Usually, I know exactly how much I'm billing each month. I know how much money has been agreed, what's (supposed to be) coming in and what's going out. But lately, I've not been as on top of my finances as I usually am. That's partly to do with the shock of paying January's tax bill, but also because I'm in the middle of changing how I track my invoices and expenses.
If I were a big company I guess you'd call this a digital transformation. And I'm at the most painful point in the process where I haven't fully switched off the old system nor have I moved completely to the new one. The effect has been that I don't really know how much money I'm making at the moment.
But the real impact of all this was that I created an illusion of scarcity for myself. I said yes to everything that came my way, regardless of whether I actually had the time to do it, because I panicked that I needed more money.
Operating in the dark like this was in no way helpful. All it led to was bad decisions and skewed priorities. When I eventually sat down to do a calculation of where I was stood financially, it was a lot better than I had scared myself into thinking. Sure, I had brought in more cash, but at the expense of my weekends, social life and newsletter. All of which are things that have long been non-negotiables for me since I went freelance.
Money worries are complicated and entrenched in our individual personal narratives around self-worth, success and security. We don't get taught how to deal with it properly in school; it's the last taboo among friends. And there's definitely no crash course in handling your finances on day one of going freelance (especially for those of us who came to self-employment unexpectedly).
I'm going to talking about all of this in more detail this week at a panel I'm moderating on freelancer finances. I've lined up some wonderful panellists, Sian Meades (Freelance Writing Jobs), Alice Tapper (Go Fund Yourself), Alex Holder (Open Up: The power of talking about money) and James Foster (First Freelance Accountancy).
Together we're going to delve into the biggest freelancer money issues – from the practical to the emotional. You should leave feeling more comfortable talking about money, but also with some helpful tools to avoid getting into the same pickle I found myself in.
I'll be moderating the panel and there'll be plenty of time to ask questions, so I hope to see some of you there. And if you got all the way to the bottom of this, your reward is that newsletter subscribers can get 50% off the ticket price with the code FIRSTAID50. Happy Monday!