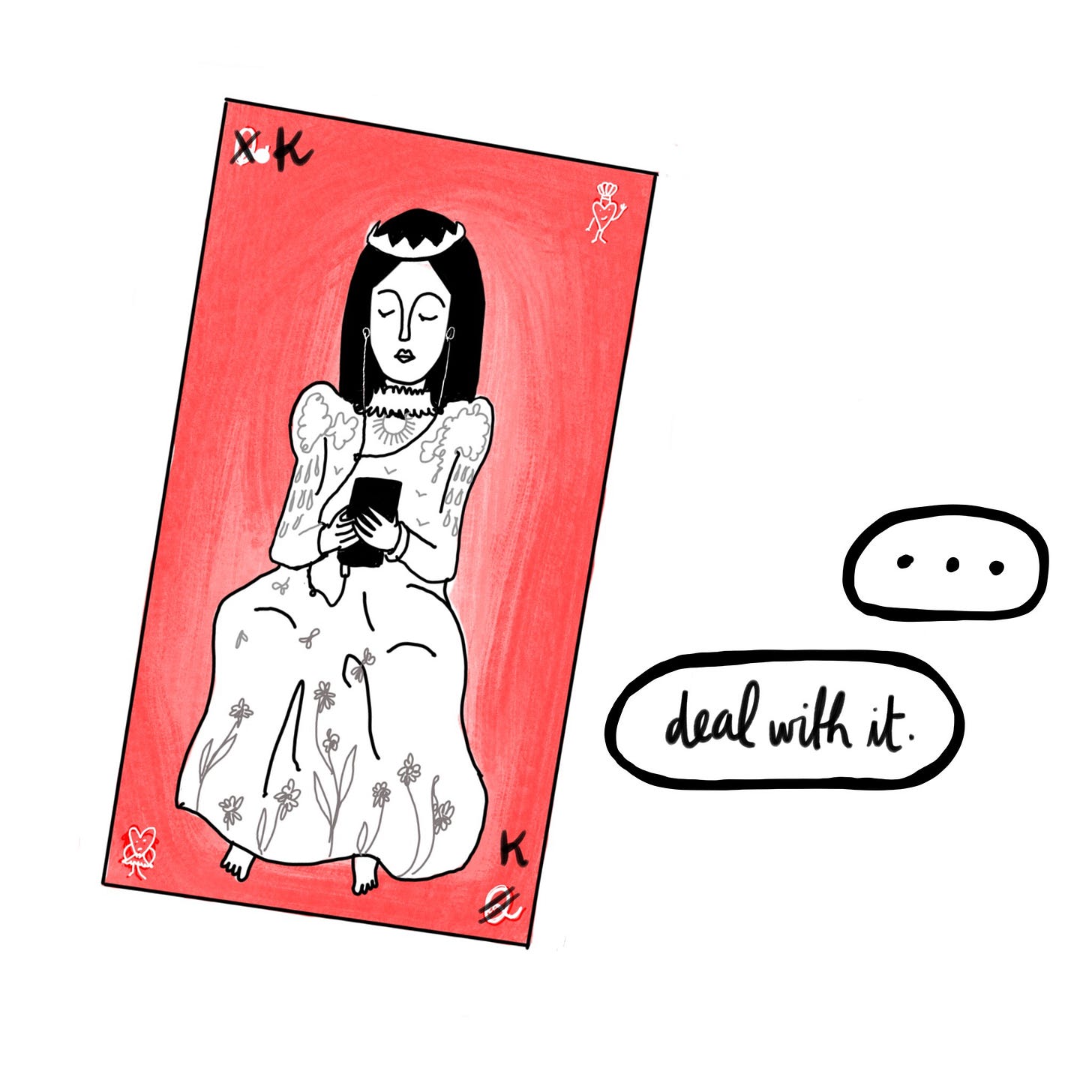 ---
Welcome to The Professional Freelancer, a newsletter that will make your freelance life richer. In this issue:      
* The art of the follow up   
* The Freelancer Away Day is back   
* Dolly in a trolly   
* Why I want to charge a pick your brain fee
---
This week, I was on the receiving end of a follow-up message. A bad one.
I'd put a call out in a Slack group for a freelancer to help me with a project. One person got in touch with their portfolio – great. A couple of days later, they followed up to see if I wanted to chat – I didn't reply because I was in the middle of something. Then they called me twice through Slack (I didn't even know you could do that). Then they followed up again a day later with a message that said: "Looks like you don't want to work with me. Shame".
While following up is very much an art rather a science, there are some very clear don'ts when it comes to chasing people up. Here are my tips for following up.
Do follow up
Let's get this one out of the way first – definitely follow up. Especially if you're cold pitching or contacting someone new for the first time. There are so many reasons why someone isn't getting back to you that are about them and not you. Forgetting to put an out-of-office on when they go away; checking their email, not replying and then forgetting about it; accidentally deleting the email; prioritising other work over the emails. Always follow up, just go about it the right way.
Leave it a week before the first follow up
Wait a full week before sending a chaser, especially if what you're chasing is a pitch. Lots of publications have weekly feature meetings, so there's a high likelihood that you're not going to get that commission immediately anyway.
Waiting a week might feel like an age, but you have to remember that time really is relative. When you're waiting for someone to get back to you, a week feels like an eternity. When you have to fit in getting back to someone else among your busy schedule, a week passes by in a flash. (For a deep-dive on time and how it affects our work, listen to my podcast episode about it)
Once bitten, twice shy
In her book, Digital Etiquette: The future of good manners, Vicki Turk writes that you should only follow up once. "If you absolutely have to chase a response, you get one shot at it. One," she writes. "By sending a follow-up, you've just doubled your imposition on someone else's inbox. If you still don't get a response, it's time to face the facts: they're just not interested."
While I agree that if you don't get a reply to a chaser you need to move on, I do think it's ok to send up to two of them. But two is the max! If they aren't replying after you've given them another opportunity to – there is a reason. You might never find out what that reason is, but it's a better use of your time to just plough ahead rather than dwell on it.
Don't be passive-aggressive
There is never a need to be pass-agg. Nor straight-up aggressive, for that matter. Shame.
Put yourself in their shoes
I have no data to back this up, but I suspect that a lack of empathy is one of the biggest causes of workplace unhappiness. Try to think about the person you're following up with for a second. If you're emailing someone a pitch in response to a tweet that's had 200 retweets, consider the inbox of that editor. The chances are, they've had hundreds of emails in response. Would you be able to reply to all those emails immediately? Probably not.
Have better email habits
We complain a lot about other people's bad email habits, but we don't often stop to consider our own. I know, for example, that there are things I could have done better when I put that call out for the freelancer. I wasn't clear in my original post about my timelines and when I was going to get back to people. That's on me.
Vicki has a whole section in her book about sending emails: "People have a misguided assumption that etiquette must be unspoken, but transparency is often the best way to ward off potential misunderstandings."
When you're sending an email pitch, really ask yourself: Would I reply to this email? Is the pitch clear? If it's time-sensitive, are you communicating that with a deadline? Practise better email habits and good emails will come back around to you in return.
Happy freelancing professional freelancers,
–Anna, FJ&Co. Founder
---
The FJ&Co noticeboard
The Freelancer Away Day is back! Last year, I hosted a one-day workshop for freelancers and self-employed creatives who want to take their businesses to the next level. It was such a productive day that I've decided to run it again this year on December 6 in London along with my co-host, Harriet Minter. The Freelancer Away Day is your chance to gain the support you would get within an organisation while also encouraging you to focus on long-term career goals and not just the next assignment. Tickets available here.
Free co-working pop-up for freelance writers: On October 29, I'm hosting a free co-working day for freelance journalists, writers and bloggers in east London. Tickets are free, just make sure to RSVP here as spots are limited. I've partnered with AndCo on this event, a flexible co-working membership that gives you hotdesk access to venues across London and Bristol.
Last call for the freelancing is a feminist issue debate: Last chance to grab one of the few remaining tickets for next Wednesday's panel discussion on the rise in women going freelance. I'm moderating the all-star lineup, which includes Coco Khan from the Guardian, Lucy Pasha-Robinson from HuffPost and freelancer Josie Cox. It's on October 23 and tickets are available here.
---
The no-office office pet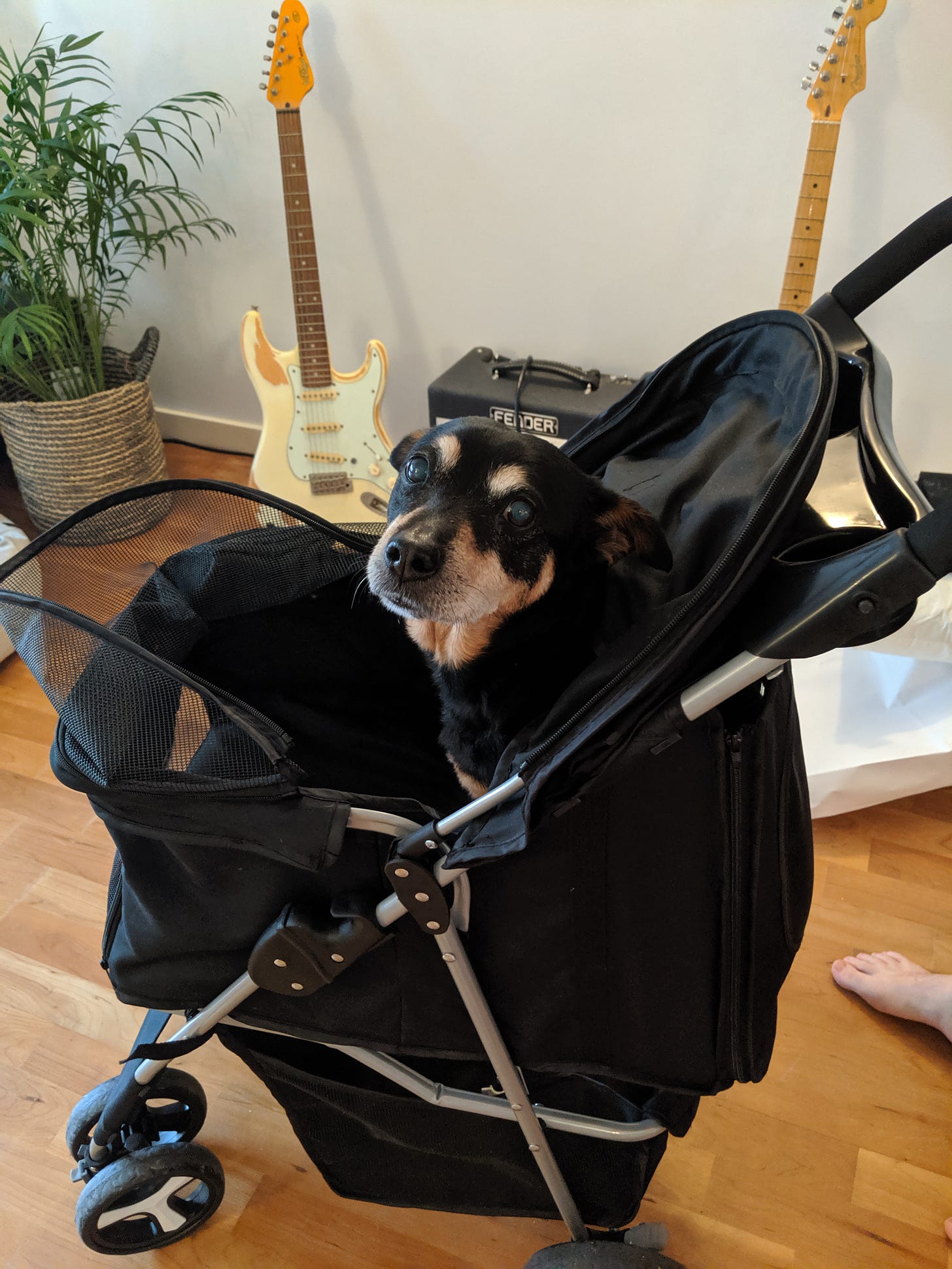 I haven't posted a picture of Dolly in a while, so here she is in her trolly.
If you have a Good Pet who keeps you company as you work from home, send me a picture of them to feature here and bring joy to the lives of thousands of freelancers.
---
Calls for pitches
---
The list
---
Testimonials
---
The Professional Freelancer is written by Anna Codrea-Rado, illustrations are by Léo Hamelin. It's a production of FJ&Co, a platform that gives freelance journalists the tools, resources and community support they need to make a sustainable self-employed living
If you're new to freelancing, download First Aid for Freelancers, my free e-book on handling the early days of self-employment. You need to put your email address in to download it; you won't be signed up to the newsletter twice. Also check over the archives for past issues
If you want to advertise a part-time job or work opportunity to a community of over 4,000 freelance writers, click here