Travelling abroad alone on assignment | B-Roll Series
This is another instalment of Cod Philosophy's B-Roll series, a behind-the-scenes peek into my reporting process.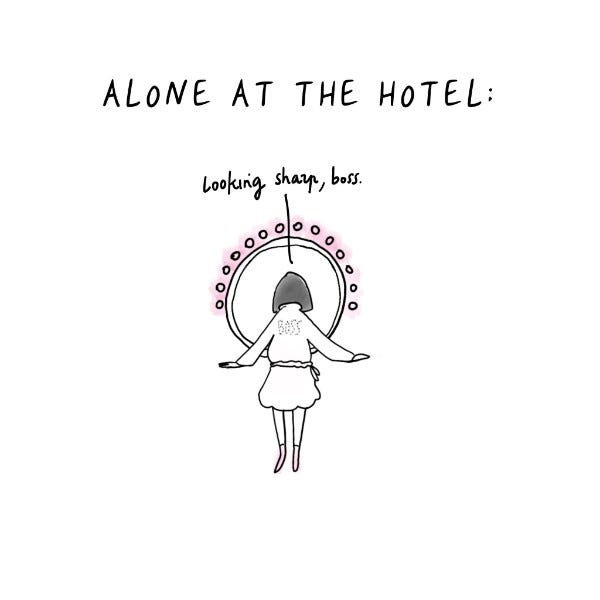 Back in March, I went to Weil-am-Rhein, a tiny town in Germany just outside of Basel. I was there reporting on a story for the New York Times about an exhibition on nightclub design.

It was a dreamy assignment and one of the rare chances to travel abroad on a publication's dime. I don't find travelling for work, however, to be all that glam. I don't want to knock foreign assignments because those sorts of opportunities don't come around often, but I wanted to write about how biz travel can be a bit lonely and frustrating. Especially when you're by yourself, a woman, an introvert, or in my case: all of the above.

This is the story not so much of how I reported the story, but what I did the rest of the time.

***

The museum was a good 20 minutes by car from Basel. In my infinite wisdom, rather than stay in the city centre I wanted to be somewhere within walking distance of the museum. After proximity, the main attraction of the hotel I booked was the fact it was a "business hotel" and would have reliable wifi and be a decent place to work. What I found out when I got there, however, was that it was a hotel for the kind of businessperson who has a company car.

There was a motorway between me and the museum, so no way to walk there. In fact, there was not really anywhere to walk from it. So on the first night, I had dinner in the hotel's Mexican restaurant, surrounded by German and Swiss suits. Tacos in Swiss Germany are not where it's at.

Most of the next day was spent reporting, but in the evening I wanted to go into Basel proper. While I'm perfectly happy in my own company and have even lived abroad before, I'm really not much of a solo traveller. Exploring a city by myself is quite daunting. Which is weird when you think about it because reporting is all about discovering new things and venturing into the unknown. But hey, humans are complex I guess.

So I did what I always do when I'm worried about something, I researched it and devised a plan. I found the restaurant I wanted to go to for dinner and figured out how I was going to get there, via a route that would take me through the city's iconic cobbled streets.

I set off down the only non-major road out of the hotel. Everything was good. Except once I crossed over to the Swiss side, my phone stopped working. This is embarrassing to admit but I'd completely forgotten that Switzerland isn't in the EU and so wasn't covered by my phone's roaming plan. Without my phone, I couldn't remember which tram stop I needed to get off and I wasn't entirely sure where the restaurant was located.

I managed to figure out enough to get to me into Basel (let's be real, it's a tiny city so it wasn't that hard). Then I found some open wifi outside an Apple store and downloaded offline Google maps so I could find the restaurant. At some point, it started raining. Of course it did.

Once I got to the restaurant, I was so bummed out by the whole thing, I had my sad dinner and didn't know what to do with myself. That's when I realised that I'd done what I had set out – go into Basel, have a mooch around and get some food.

So I got a cab (which was another ordeal because Uber only works in the Swiss parts of Basel, but not the German) and went back to the hotel and went to bed. Like I said, business travel is not glam.

***

I'm telling this story partly because I think a lot of people get lonely when they travel for work but don't want to fess up to it for fear of sounding ungrateful. But also because I think it's important to accept ourselves.

I'm a firm believer in the fact that the most exciting things happen to us outside our comfort zones, but what might be easy for one person is another's Everest.

So yes, push yourself to go outside your comfort zone but realise that sometimes that can be as far as eating dinner alone in Basel.