What I've learned in two years of freelancing
The 12 lessons I've gleaned from the greatest job in the world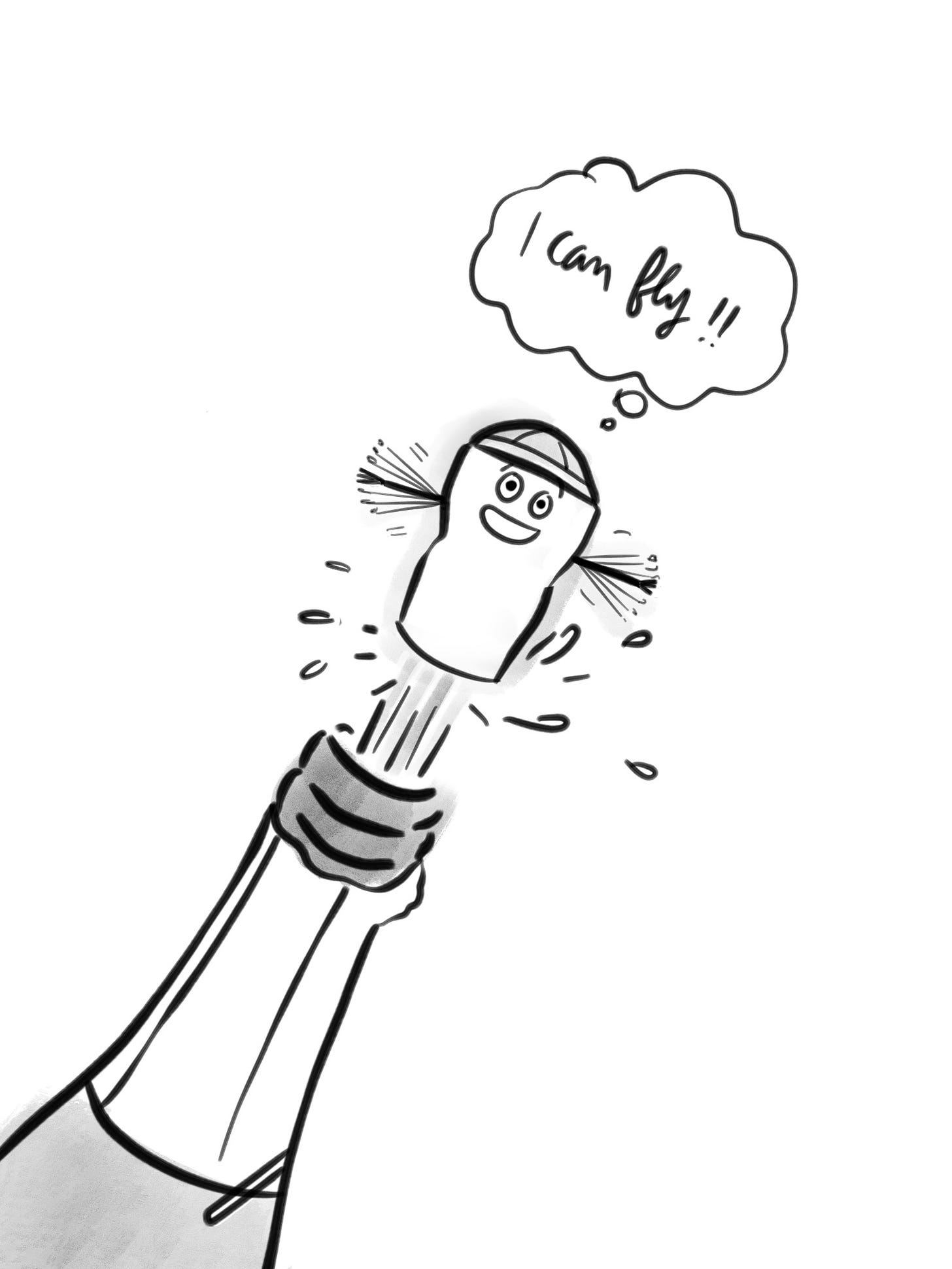 ---
Welcome to The Professional Freelancer, a newsletter that will make your freelance life richer. In this issue:  

• The 12 lessons I learned from two years of freelancing 
• A special offer on FJ&Co membership 
• Milo the Manchester Terrier 
• I've launched a podcast about modern work!

On this Friday two years ago, I got made redundant. For those who've been reading this newsletter from those early days, you'll know that I started freelancing because I wasn't sure what was going to happen next. I wasn't even sure if I would stick with freelancing. As it's turned out, freelancing has been the wildest ride of my career – one that's given me more professional and personal fulfilment I could've imagined. I wanted to reflect on some things I've learned these past two years right here, where it all began.
I've learnt a hell of a lot about myself
There's no one to hide behind when you work for yourself. No bad boss to blame for holding you back, no company culture restricting your creativity. It's been eye-opening to look in the freelancing mirror and figure out which of my bad habits are ones I picked up in offices and which are just my own bad habits.
My friend Emilie Friedlander articulated this perfectly a few newsletters back when she said: "That's what's sort of great about freelancing: It gives you clarity on the hardships in your life that are born out of circumstance (for example, working a particular role at a particular publication, with a specific set of coworkers and managers) and the hardships that you're experiencing because of your own patterns."
There are many different ways to work
When I first went freelance, I worked in ways that mirrored how I worked in offices. It took me an embarrassing amount of time to realise I didn't have to do that anymore if I didn't want to. We weirdly shame each other about how we work – judging people for getting up too late, leaving the office too early, etc.
When you work for yourself, the clue is in the title that you really don't have to worry about that anymore. Writing from bed is fine; not setting an alarm in the morning is fine; working from the local library rather an overpriced co-working space is fine; finishing work at 3PM because you have kids to collect from school, is more than fine. Stop work-shaming yourself and figure out what actually works for you.
I was prepared for something bad to happen, and it did
This time two years I was being made redundant; this time last year I was in the hospital with a strange and mysterious eye illness that wiped me out for the best part of a month. I wonder what this summer has in store for me!
But in all seriousness, it's so important to have a vague plan for what you will do if something does happen that means you can't work for a bit. If you don't already have an emergency fund, start stashing a few quid into a savings account until you get a least a month's worth of rent in there. Knowing that I had a cash reserve specifically for an unforeseen situation like getting seriously ill took a huge amount of pressure off me.
Saying no is really hard
When you're freelance, boundaries are really important. Not just the ones that help you switch off after a day's work or push back on an over-demanding client, but the ones that help you focus on what you actually want to achieve with your self-employment. Those boundaries are really hard to draw and maintain because they involve significant sacrifice.
Elizabeth Gilbert, author of Eat, Pray, Love, puts this idea very succinctly when she talks about the real art of saying no. Quoting a mentor of hers, she said: "You need to learn how start saying no to things you DO want to do, with the recognition that you have only one life, and you don't have time and energy for everything."
Writing down what I'm grateful for has given me perspective
Some people meditate, others pray; every morning I write down one thing I'm grateful for. It sounds hippy, I know, but it sets up my day beautifully and reminds me why on earth I'm even doing all of this. I often find myself writing the same thing: being able to do work I love, on my terms.
It will never cease to amaze me how much I can get done in 25 minutes
Those you who've been here from the beginning will know how much I love the Pomodoro Technique. The very simple method for getting things done – set a timer for 25 minutes and work on one task until the clock runs out, take a 5-minute break and repeat. I can't express how much of a game-changer this has been for times I've been overwhelmed with work, but also for kicking me up the bum to just get started on a boring task.
Having a project that's completely my own has been so important
The daily grind of freelancing is, in reality, full of blows and setbacks – blanked pitches, mountains of edits, delayed payments. Having a piece of your business that is entirely your own (Hi, this newsletter!) gives you space to work on something without having to wait for a 'yes' from someone else first. Which, if you're anything like me, is kind of the main attraction of being freelance anyway.
As is having non-monetisable hobbies
We live in a weird time where every part of your life can be turned into a business. And when you work for yourself, there's a danger that you can end up commercialising all aspects of your life. Do not do that! You are a person who has an identity outside of what you do. Find some hobbies and extra-curricular activities that you do just for the love of doing that thing and make a promise to yourself to never try and sell that hobby on Etsy.
I love being able to pick my colleagues
Journalism isn't exactly known as a collaborative profession, but since I've been freelance I've been able to work with friends on exciting projects and develop professional relationships that I cherish as much as any other friendship. I won't list everyone who's been a brilliant freelance colleague to me over these last two years, but special thanks go to Tiffany Phillippou, Vicky Spratt, Harriet Minter, Leo Hamelin and Tara Lepore. And of course, the biggest thank you is reserved for YOU and every single person who reads this newsletter!
I had to re-learn the art of the email
You'll come to freelancing not thinking much of emails, but when you work for yourself your whole day, not to mention mood, can immediately change off the back of a single email. The most important emails you will send as a freelancer are the ones in which you're asking for something – usually, that's either work or payment for the aforementioned work. Find a way to deal with your emails so they don't suck the life out of you – don't be in your inbox all day, learn how to pitch better, but also foster a resilience towards them.
Learning a few business basics was vital
I don't mean go and do an MBA, but to really make freelancing work for the long haul, an understanding of a few basic business concepts will make the world of difference. Even simply understanding that diversifying your income streams (also known as the side hustle) is a smart way to avoid having all your eggs in one financial basket.
My freelance journey took me in directions I wasn't expecting
I didn't set out to start a platform for freelance journalists, nor did I think I would start a campaign for fairer pay for freelancers. But that's where my freelance journey has taken me and I'm so happy for it. You should definitely be clear on what your goals are and what you want to get out of your self-employed career, but also build in the flexibility and curiosity to also let the journey take you where it needs to go.
And, finally, in celebration of my two-year freelanciversary, I'm offering 15% off the first three months for new FJ&Co members! That's £7.65 a month, which is less than a Netflix subscription AND will help you make more money. Membership to FJ&Co includes additional newsletters (in-depth guides to freelancing, plus interviews with editors and superstar freelancers), as well as free access to FJ&Co panel discussions. More info about membership is available here and you can sign up for it by clicking the button below (the discount will automatically be applied to the monthly subscription option).
---
FJ&Co updates
Funding Your Freelance Journalism: The next FJ&Co panel event is on August 21 and it's on how to support your journalism. From content marketing to grants, we're going to be talking about different revenue streams you can use. I'm actually going to be a panelist on this one for a change so that I can talk about newsletters as an income source for journalists. The last few remaining tickets are available here.
---
No-office office dog of the week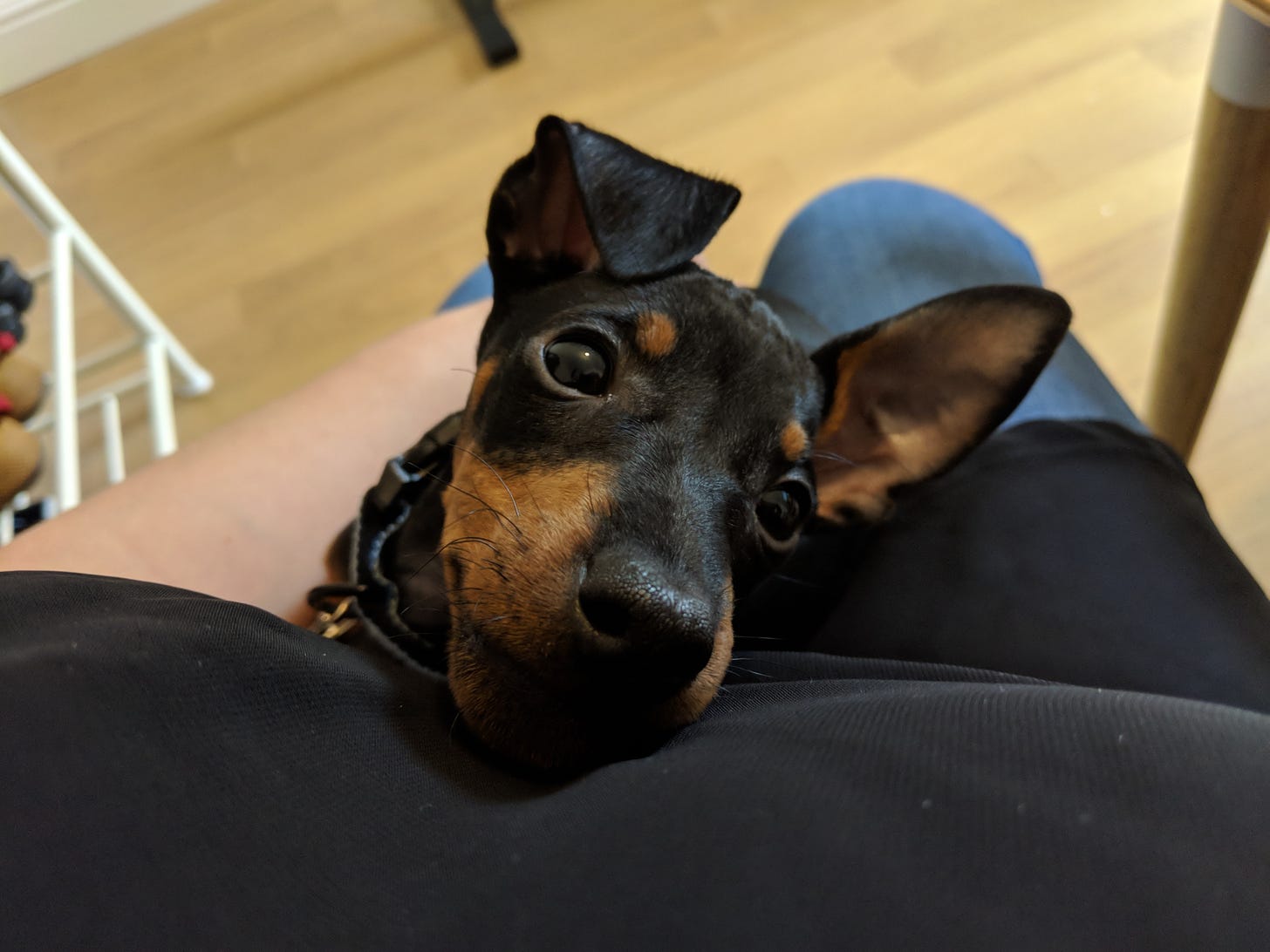 This is Milo the Manchester Terrier, who keeps freelance travel writer Lottie Gross company when she's on deadline.
If you have a Good Dog, send me a picture of them to feature here and bring joy to the lives of thousands of freelancers.
---
Calls for pitches
---
The list
---
Testimonials
Annabel Herrick: I can so relate to this!
---
The Professional Freelancer is written by Anna Codrea-Rado, illustrations are by Léo Hamelin. It's a production of FJ&Co, a platform that gives freelance journalists the tools, resources and community support they need to make a sustainable self-employed living
If you're new to freelancing, download First Aid for Freelancers, my free e-book on handling the early days of self-employment. You need to put your email address in to download it; you won't be signed up to the newsletter twice. Also check the archives for past issues
If you want to advertise a part-time job or work opportunity to a community of over 3,000 freelance writers, click here