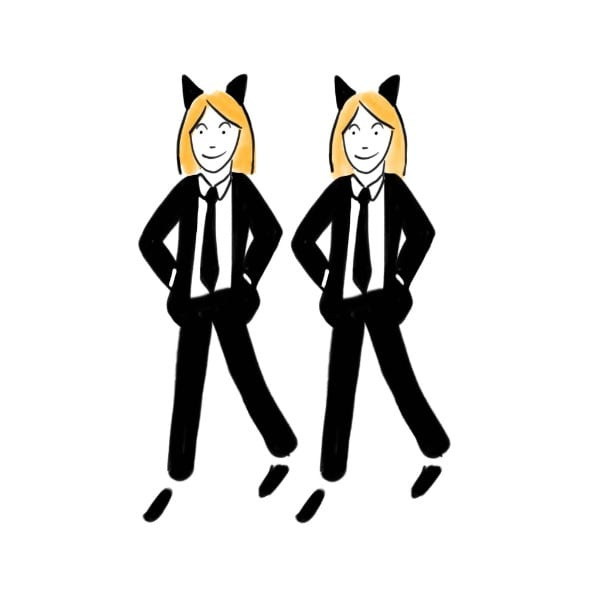 ---
In every "real" job I've had, I've always had a work-wife. A female colleague who's been my confidant, crisis manager and friend in the office. Someone to go for lunch with, vent about the boss to and seek counsel on a work problem.
When I first went freelance, I didn't think I'd need a work-spouse anymore because most of my work-related issues seemed to stem from office politics. Now, there's none of that to deal with – no boss to appease and no dumb organisational rules to follow. But stuff comes up. Sources don't get back to me, pitches don't land and crises (both real and imagined) still happen.
You need a work spouse as a freelancer, too.
There's a difference, however, in the dynamics of my work-spouse relationships now that I'm self-employed. To start with, I don't have that much IRL contact with them. I work from my literal home, which I love because there's no one to pester me or interfere with my plan for the day. But that also means there's no one else around when I need them. No work wife for me to gchat, asking her to meet me in the breakout area in five minutes for a tea and natter. I leave my work-wives Whatsapp voice notes now and hope that they're around to get back to me.
That's another thing, I now have a couple of work-wives. It's not that one isn't enough, but when you don't work for the same company, you can't really keep up with someone else's schedule. Also, I'm conscious of leaning exclusively on one person, especially the ones who also are freelance. Their time, like mine, is quite literally money.
But the real difference is in the types of issues I now come to them about. Whereas before, I was mainly moaning to my work-wives, I'm now seeking opinions and real input into ideas. Sure, I still complain occasionally but it feels more constructive somehow. If I really have a problem it's now within my power to fix it, so I'm usually asking if my solution is the best way to approach the issue.
Unlike when I was employed at a company, I now have the authority to sign off on projects. When I come to a work-wife with an idea, what I'm basically asking them is to sense check the hair-brained plan that I'm probably going to do anyway.
Sometimes, however, I'm just after a pep talk. Because let's be real, it's hard when you're the only one backing yourself and every now and then you need someone else to tell you that you're doing just fine.
Happy freelancing professional freelancers,
–Anna, FJ&Co. Founder
---
The List
On this week's episode of my work culture podcast, we talk to the brilliant Harriet Minter about how to bounce back from setbacks. If you've been struggling with end-of-year burnout, this is a must-listen
---
Calls for pitches
---
Testimonials
---
The Professional Freelancer is written by Anna Codrea-Rado, illustrations are by Léo Hamelin. It's a production of FJ&Co, a platform that gives freelance journalists the tools, resources and community support they need to make a sustainable self-employed living
If you're new to freelancing, download First Aid for Freelancers, my free e-book on handling the early days of self-employment. You need to put your email address in to download it; you won't be signed up to the newsletter twice. Also, check over the archives for past issues
If you want to advertise a part-time job or work opportunity to a community of over 4,500 freelance writers, click here