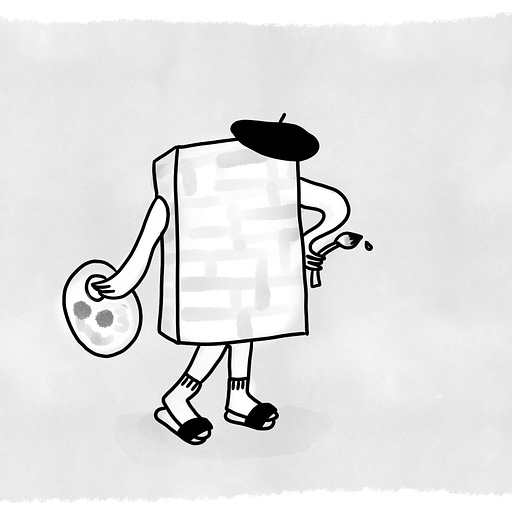 Apr 13 • 30M
Why I'm putting (some of) my newsletter behind a paywall (again)
Also: Voice Notes!
A podcast about how our careers make us feel, hosted by Anna Codrea-Rado
A few weeks ago, I announced that I was introducing a paid option for this newsletter. Today I'm officially turning on the paywall.
That means that from today if you want to continue receiving all of the posts that I write, you'll need to sign up as a paying subscriber:
I thought I'd talk a little bit more about why I've decided to go paid (again), what you can expect going forward and why I think you should sign up for a subscription :)
Much like Wikipedia, the majority of the people who read this newsletter every week don't pay for it. I get it. I really do. I know that subscriptions are a tough sell right now. Plus, I don't know about you, I have a habit of saying I will sign up for something and then just not getting around to it.
To help on the cost front, I've dropped the price of subscriptions by 60%. I'm now charging the minimum that Substack allows on the platform, which is $5 a month or $50 a year. (That's about 3.80 a month or 38 a year in Great British Pounds).
So if you've been wanting to take out a subscription but were put off by the price in the past, now is the time to do it because it's never been lower than it is right now.
If you enjoy this newsletter and are a regular reader, please consider

becoming a subscriber

. It's a practical way of supporting my work
As for why I've decided to put a paywall back up for this newsletter, I tell the whole story, including how my previous attempt at a subscription option failed, in the voice note at the top of this post.
I've also distilled my three main reasons here:
1. I value my labour
The first and foremost reason I'm going paid is that I believe in my work and its value. There are over 15,000 people who read this newsletter and that tells me that something I'm doing here is working. As do the countless emails I've received over the years from readers telling me that something I've written has helped them in their career in some way.
For better or worse, our economic system necessitates that we make money. In a very basic sense, that means that in order for me to spend the time it takes making these posts useful, informative and engaging, the project needs to be financially sustainable.
The most practical way for showing appreciation for the labour that goes into this newsletter is by supporting it financially. And so having an option for readers to fund the newsletter directly just feels right for me. I also hope that by standing up and saying, hey I'm a writer who believes she deserves a decent wage for her work!, that will help others do the same: because all we deserve to have our work compensated.
2. To make revenue
In the interest of transparency, this newsletter used to make up nearly half of my income. Over the last year, I tried to make up for that loss and I haven't been able to do so in a way that's financially meaningful and creatively fulfilling.
I now have a goal of eventually getting to 1,000 paying newsletter subscribers. That is the number I need to reach in order to fund all the ambitions I have for it. Because making money doesn't just mean making a profit. If this newsletter makes healthy revenue, not only do I get paid, but it also means that I can re-invest in it:
Other creatives: I'm doing a profit-sharing arrangement with Léo Hamelin, who illustrates the newsletter. Rather than paying her a flat fee, I'm paying her a percentage of the newsletter's profits. That way, as this newsletter's profits grow, so will her income

Free subscriptions: For every 100 people who sign up, I will give away 10 free spots to anyone who can't afford it. The comped subscriptions are intended for students, un- or under-employed folks but I'm not going to means-test you or ask why you think you should have a spot, just fill out this form

Non-profits: In the past, I've made donations to non-profits and charitable organisations with profits from the newsletter and I plan to continue doing so
3. To protect my creative energy
I've made no secret about getting burned out with the newsletter in the past. So this time around, I'm addressing that by thinking differently about the paywall.
I'm now viewing the paywall as an opportunity to protect my creative energy. There's some stuff I want to talk about that I don't want to do out on the open internet. The more vulnerable writing, or opinions that I think might get taken out of context or in bad faith – I want to put a padlock on that content.
I also think that building an online community behind a paywall is healthier. This is why the ability to comment and take part in discussion threads is now only going to be available to paying subscribers. And why hearing me share juicy stories about my work flops are also only for subscribers.
That subscription fee is not so much an entry ticket as it is a maintenance fee. If you're paying to be in the community, you're quite literally invested and you want to keep it a positive place for productive discussion.
What you get if you sign up for a paid subscription
The free weekly email that you already know and love: Everyone will continue to receive an email from me on Fridays, which rotates between lessons from my own career, personal essays and commentary about work culture. As well as an original cartoon from Léo Hamelin!

A new monthly audio project: Career Confessionals are voice notes about times when things didn't go right in my work life. (The first episode is free to listen to and linked at the top of this post!)

A subscriber-only newsletter: The 'Relevant To Your Interests' recommendations feature the best things I've read, watched and consumed that will either help your career or distract you from it (see here for an example)

Access to a community of like-minded readers who want to engage in thoughtful discussions about how our careers make us feel

Keys to the archive: There are so many great posts in my archives that are only available to paying subscribers, including a huge pitching guide, and much more!
If you have any questions that I haven't answered here about how the paywall works or why I've decided to put one up, leave me a comment below and I will answer them. Otherwise, I will leave you with this:
This newsletter started by accident. But I quickly realised that my mission with it was clear: to help other freelancers build sustainable creative careers. I've come to see that the best way I can do that is by sharing not only the practical nuts and bolts of freelancing but also by going deep on the emotions we all feel at work but are too scared to say out loud.
As I said in my voice note, I'm even more terrified of launching a subscription option this time around than I was when I first tried it. But what's keeping me going is knowing in my heart that I can't be the only person who has regular career crises, and who wants to explore the weird feelings they have about their work. I truly hope you come along for the ride.
Thank you, as ever, for your continued support of my work.
Anna 💌